Aren's Top 10 Films of 2018
1. Annihilation (dir. Alex Garland)
What It's About: After her husband (Oscar Isaac) mysteriously arrives back home after having been missing for over a year, a biologist (Natalie Portman) ventures into the mysterious zone where he was lost in an effort to save his life and discover the secrets behind the zone's origin and effect on reality.
Why It's Good: Sometimes a film bores into your brain and doesn't let loose all year long. After repeat viewings and many hours spent contemplating and discussing the film (including reading its source novel, which is very different than the film), I can't point to a 2018 film that has stayed with me longer or played on my subconscious more than Annihilation, Alex Garland's follow-up to Ex Machina. There's no sophomore slump with this stunning exploration of depression, which draws on the imagery of several science fiction classics, including 2001: A Space Odyssey, Stalker, and The Thing, to name a few, but creates a vivid world all its own.
If you've been following our site for a few years, you'll know I'm a big fan of science fiction. In particular, I love hard science fiction, which doesn't just present fanciful worlds and futuristic technologies, but which tackles all the scientific and philosophical implications of such worlds. Annihilation is a great work of science fiction for using the imaginative possibilities of the genre to bore a hole straight into the heart of our self-destructive impulses, exploring why we destroy stability and the ways that even life itself is a slow process of degradation and destruction.
Annihilation shows us that to self-destruct is human, and in its perplexing, fascinating conclusion, it also says that perhaps that's not worth despairing over, that perhaps destruction is a means of creation, and that only through the fires of immolation are we reborn. Along the way, it conjures breathtaking images, haunting nightmares, and proves the uncanny ability of cinema to capture our pains and struggles and transform them into more than just a mirror, but a prism of the world, refracting out into all its complicated beauty and possibility.
2. First Reformed (dir. Paul Schrader)
What It's About: Reformed Church minister Ernst Toller (Ethan Hawke) suffers a crisis of faith after one his parishioners, an environmental activist, commits suicide, driving Toller to confront humanity's devastation of the earth and the Church's culpability in supporting environmental destruction.
Why It's Good: If there's a definitive film of 2018, it's First Reformed, which captures the existential weight of existing in our destructive present. Paul Schrader's exceptional drama puts to work the modes of transcendental filmmaking of Dreyer, Ozu, and Bresson that Schrader wrote about as a young man, but it also captures the extreme difficulty and seriousness of living with faith in the modern world. If you are to earnestly take up the burden of the cross, the weight can be crushing. Thus, through its challenging conversations, contemplative imagery, and riveting leading performance from Ethan Hawke, First Reformed captures the despair of humanity's sin, but also the possibility to overcome our despair and accept grace against all odds.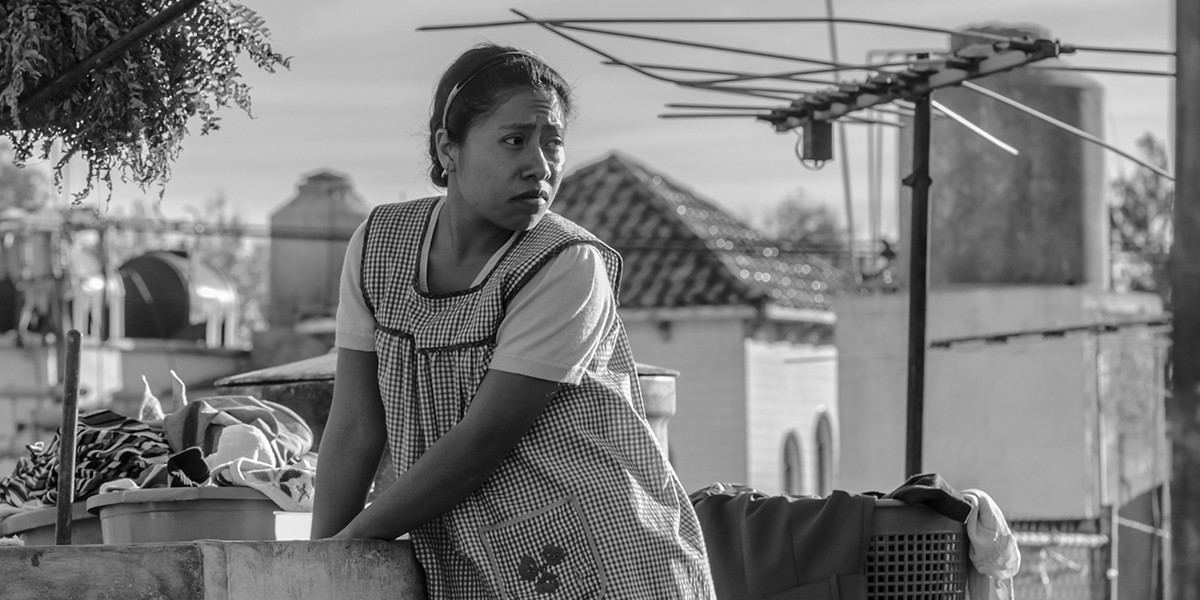 3. Roma (dir. Alfonso Cuarón)
What It's About: This semi-autobiographical drama follows Cleo (Yalitza Aparicio), a nanny and maid for a rich Mexican family living in the Roma neighbourhood of Mexico City in 1970, as she cares for the family and witnesses the city's upheaval in the wake of political instability and family crisis.
Why It's Good: What a marvellous work of memory. This autobiographical work is a tribute to Cuaron's nanny, who helped raise him and his siblings in the early 1970s. However, the film is no simple paen to an ordinary women. Cuarón uses controlled camera movements and wide-angle shots to transform Cleo's (Yalitza Aparicio) daily work into intimate spectacle, making her more than an individual and something of a saint. While some have quibbled about this approach diminishing the film's portrait of Cleo as an individual, Cuarón doesn't deny Cleo an inner life. Instead, he shows her as a vulnerable human being with her own emotional and spiritual struggles while also capturing her as something closer to a saint in the eyes of the children she cares for, and most importantly, Cuarón's camera, which never stops watching her with reverence and giving her the adoration she likely lacked while working in his childhood home. Roma is beautiful and powerful and it demonstrates a Hollywood magician pulling out all stops to create a work of abiding beauty and faith.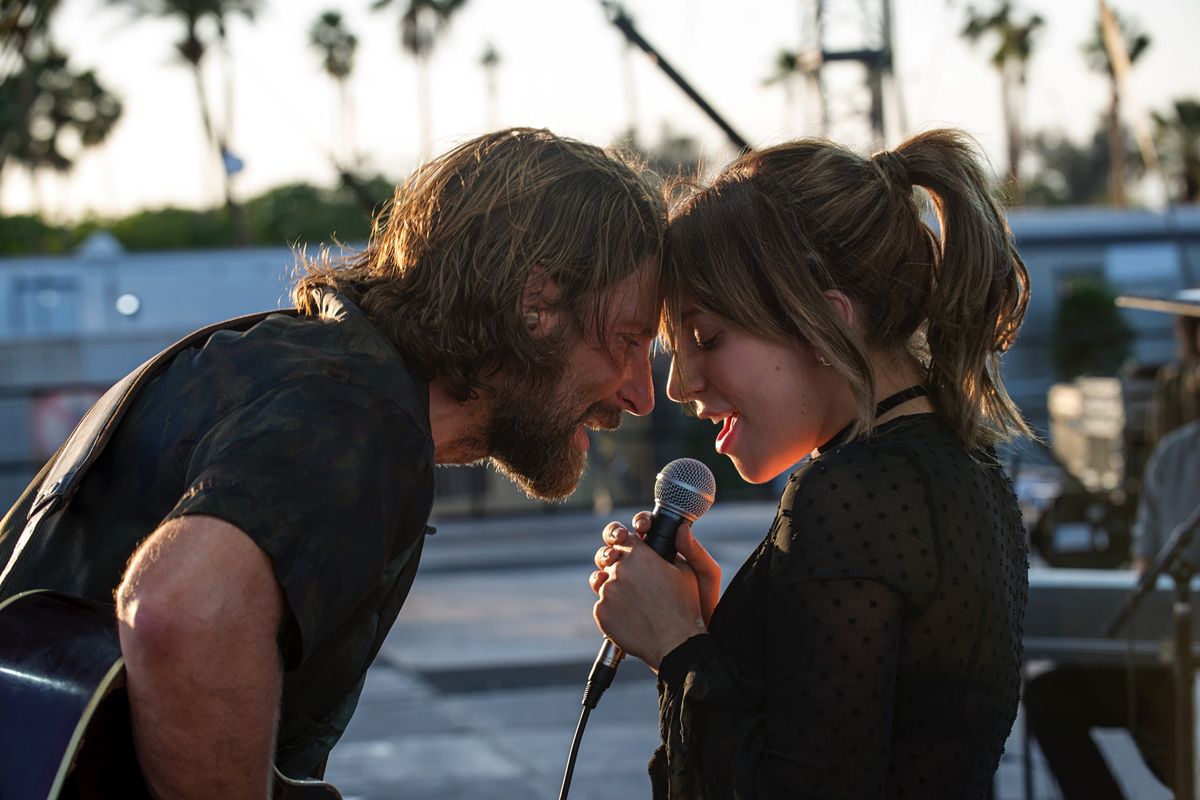 4. A Star Is Born (dir. Bradley Cooper)
What It's About: An alcoholic alt-country star (Bradley Cooper) falls in love with an ordinary young woman (Lady Gaga) and helps her become a musical star, even as his own addiction threatens to destroy his newfound happiness and her newfound fame.
Why It's Good: I did not expect this film to floor me like it did, but once Ally (Gaga) accompanies Jackson Maine (Cooper) onto stage and sings the second verse of her song "Shallow," at first tentatively singing her lyrics to the crowd before losing herself in her song and letting her voice soar, I was hooked. This is Hollywood magic at its best. Cooper has learned from the American masters he frequently works with, most especially Clint Eastwood, and has crafted a film that is classical in all the right ways, while bringing in the complexities and surprises of the new. There is nothing surprising about the narrative arc of this film, a remake of a remake of a remake, but there are many shots and performances and moments of naked emotional honesty that disarm you, surprise you, and make you all the more willing to drink in its intoxicating melodrama about rising and falling stars.
5. Burning (dir. Lee Chang-dong)
What It's About: Aspiring writer Jong-su (Yoo Ah-in) becomes transfixed in a love triangle with childhood acquaintance Hae-mi (Jeon Jong-seo) and Ben (Steven Yeun), her mysterious, megarich friend who may have sinister motivations.
Why It's Good: About midway through Burning, flighty, fanciful Hae-mi smokes a joint, takes off her shirt, and dances hypnotically to the sounds of Miles Davis against the backdrop of the sunset, which looks ablaze just over the border between North and South Korea. It's not an erotic scene, although there's a certain sensual energy in the way Jong-su looks at her, and Ben, as she dances. But it is entrancing and the best demonstration of how Lee Chang-dong is able to turn what seems on paper a typical love triangle narrative into something more slippery and intoxicating. The film moves to hypnotic rhythms and Lee's camera glides across the screen, capturing these characters in all their confusion and isolation. The film culminates in the remarkable final scene, where all the lingering tension explodes in an appalling act of violence, one that captures the anger of so many young men in the world, enraged by their circumstances and their class. Jong-su may not be a self-avowed incel, but Burning tapping into a larger trend of angry young men grants more than a taste of the misogynist rage that has swept through the industrialized world.
6. The Rider (dir. Chloé Zhao)
What It's About: A blend of fiction and non-fiction about a rodeo star Brady Blackburn (Brady Jandreau) recovering from a head injury and dealing with the consequences of never being able to ride again.
Why It's Good: The intersection of fiction and documentary is a fertile space, as Abbas Kiarostami taught us so vividly over the years and that even Clint Eastwood is starting to explore in his latest works. Chinese filmmaker Chloé Zhao understands the power of this kind of cinema better than anyone since Kiarostami left us. In many ways, she is telling a familiar Western tale that trades in traditional images of masculinity and explores the ways that men have struggled to convey their feelings when left adrift by circumstance. But she also expands our comprehension of what a strong man looks like. Perhaps most affectingly, in the scenes between Brady and his paralyzed best friend, Lane Scott (playing himself), she has substituted a deeply loving and understated portrait of masculinity for the decaying modes of manhood. If Westerns are meant to show up what manhood looks like, you could do little better than to look at Brady Jandreau and the way he approaches his difficulties with grace and a deep love for the people and landscape around him.
7. Leave No Trace (dir. Debra Granik)
What It's About: An American military veteran (Ben Foster) suffering from PTSD lives in the woods with his daughter (Thomasin McKenzie), but when they're discovered by park officials, they're placed in a new home and struggle to adjust to normal lives amongst other people.
Why It's Good: Simplicity can be elegant and powerful. This quiet film about a father and daughter struggling to adapt to modern civilization is a profound portrait of trauma and pain and the way that people want to flee the world when it has wounded them in such deep ways. But more than that, Leave No Trace is a celebration of community and the need for human connection to help us heal and grow and mature into people with a right relationship with the world around us. Granik captures beautiful vistas of the Oregonian forest, but it's in the quiet moments between father and daughter that her camera is most remarkable. There are no villains here, only damaged individuals struggling to be at one with the world. Few recent American indies have been so assured or captured grace so beautifully.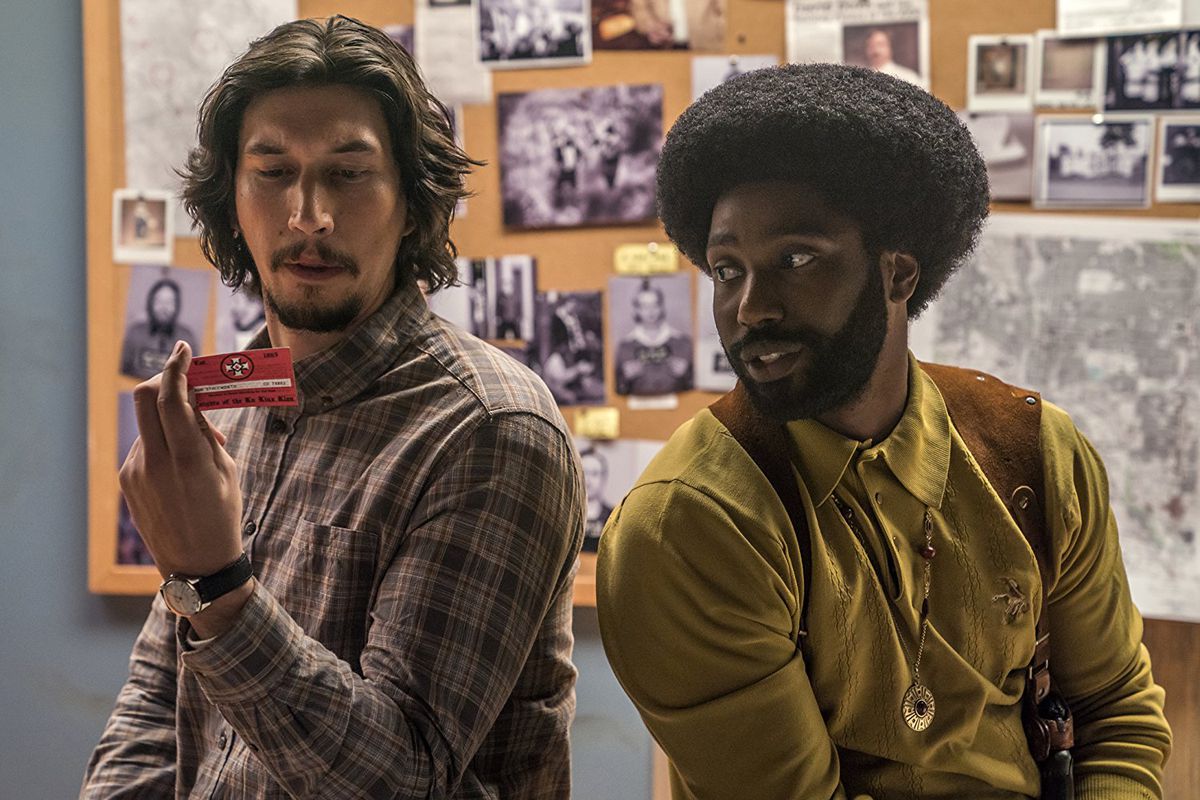 8. BlacKkKlansman (dir. Spike Lee)
What It's About: In 1972, African-American detective Ron Stallworth (John David Washington) infiltrates the local Ku Klux Klan chapter with the help of his partner Flip Zimmerman (Adam Driver) and reveals a violent conspiracy planned by the local, supposedly-harmless members of the chapter.
Why It's Good: A recent rewatch vaulted this up the list. BlacKkKlansman is in the running for the most entertaining film of the year, mixing buddy cop and blaxploitation tropes with Lee's usual didactic narrative style. For most of the runtime, this is a hoot, recounting Ron and Flip's infiltration of the KKK and showcasing the foolishness of white supremacy by contrasting it with the solidarity of the black power movement. But it's in the final moments of the film where Lee's filmmaking prowess coalesces. After all the triumphs and hurrahs, which include two exaggerated moments of victory, one where a racist cop is arrested and another where Ron tells off David Duke (a wonderfully pathetic Topher Grace) over the phone, that amp up the film's Hollywood tone to almost parodic degrees. But just as Lee has seemingly misstepped, there's a knock on the door and Ron and his activist girlfriend, Patrice (Laura Harrier), are once again haunted by racism as they look out their front door and see a cross burning on the hillside. Lee then plunges us into the present with footage of the Charlottesville "Unite the Right" rally and showing how, to invert and undercut the words of one of the white supremacist characters early in the film, the battle against white supremacy may have been won, but the war is far from over. There's no better gut punch in film this year.
9. Shoplifters (dir. Hirokazu Kore-eda)
What It's About: A poverty-stricken family that subsists off of shoplifting adopts a young girl who has been neglected by her abusive mother, sparking a kidnapping crisis and threatening the precarious balance of their lives.
Why It's Good: Every year, I add a Hirokazu Kore-eda film to my Top 10 Films list and every year I mention how it's almost cliche that this Japanese master has produced a perceptive, emotional masterwork of domestic drama. But here we are again, and all the same old superlatives apply to Kore-eda's Palme d'Or-winning work, which coalesces many of the themes he's being exploring over the last decade. Shoplifters is a deceptive film. At first glance, it's a nicely-observed family drama about class and adoption, but as the film progresses and our layers of assumptions about the characters and their situation peel away, we come to learn that Kore-eda is exploring something much deeper: not only the notion of class and tradition in Japan, but the notion of what makes a family in the first place. The film builds to an overwhelming denouement, where he refigures imagery used previously in Like Father, Like Son and Nobody Knows to conjure an overwhelming emotional wallop. There is no better master of domestic drama working today than this humble Japanese filmmaker.
10. Widows (dir. Steve McQueen)
What It's About: After their husbands are killed in a robbery gone wrong, three women (Viola Davis, Michelle Rodriguez, Elizabeth Debicki) have to plan and execute a heist to pay back the men their husbands stole from, which also has serious implications for a city alderman election in the South Side of Chicago.
Why It's Good: I usually bristle at the idea of "elevated" genre pictures as genre hardly needs elevation, having delivering some of the greatest works of literature and film over the centuries. But I won't complain when a director tries to tackle far more than the usually-modest aims of genre, especially if he's able to make as much of a statement as Steve McQueen is here. This is a rollicking heist picture, with flashy action scenes and a rich cast as morally ambiguous players playing out a twisty plot of betrayal and subterfuge. But it also gets into the thorny nature of politics and race and the reality of living in stratified present day Chicago. Widows is a satisfying genre picture and also a perceptive look at how we're all complicit in the dysfunctions of the modern world.
The Next 10 (In Alphabetical Order)
Anthropocene: The Human Epoch (dir. Jennifer Baichwal, Nicholas de Pencier, and Edward Burtynsky)
First Man (dir. Damien Chazelle)
Free Solo (dir. Elizabeth Chai Vasarhelyi and Jimmy Chin)
Incredibles 2 (dir. Brad Bird)
Isle of Dogs (dir. Wes Anderson)
Mary and the Witch's Flower (dir. Hiromasa Yonebayashi)
Mission: Impossible - Fallout (dir. Christopher McQuarrie)
Paddington 2 (dir. Paul King)
Three Identical Strangers (dir. Tim Wardle)
When Lambs Become Lions (dir. Jon Kasbe)