Aren's Top 10 Films of 2016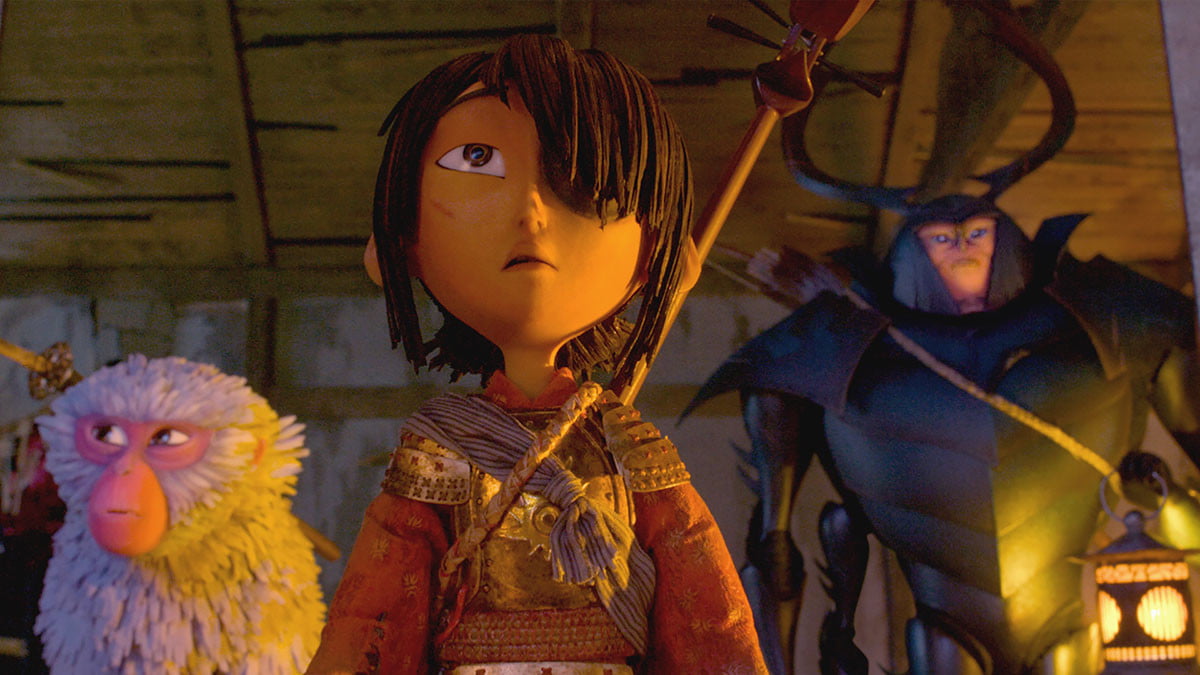 1. Kubo and the Two Strings (dir. Travis Knight)
What It's About: Young Kubo (Art Parkinson) joins a Monkey (Charlize Theron) and a Beetle (Matthew McConaughey) in a quest to find the magical armour of his dead father and defeat his pitiless grandfather, the Moon King.
Why It's Good: Kubo and the Two Strings boasts the loveliest visuals of the year and the most affecting story. Drawing on everything from Star Wars to Princess Mononoke to the ancient Babylonian Epic of Gilgamesh, it uses the hero's journey monomyth to rhapsodize on the nature of storytelling. The surface pleasures of this film are extraordinary, from its impossibly meticulous stop-motion animation to Dario Marianelli's sweeping score to the charming voicework from Charlize Theron, Rooney Mara, and especially, Matthew McConaughey. But it's the film's themes and emotions that make it so rich. Examining why we tell stories and how those stories shape our personality and our morality, Kubo and the Two Strings surprises like no other film of 2016. The final shot is the year's most evocative, both overwhelmingly emotional and ambiguous enough that you'll be contemplating it months after seeing the film. Kubo and the Two Strings is the rare American animated movie that takes the medium of animation as seriously as it deserves.
2. Silence (dir. Martin Scorsese)
What It's About: Two Jesuit priests (Andrew Garfield and Adam Driver) travel to Japan to find their mentor (Liam Neeson) during the official oppression of Christianity during the mid-seventeenth century.
Why It's Good: Silence is staggering. Scorsese is always exploring Catholic themes in his films, regardless of genre, but here he moves his ruminations on guilt, doubt, and God's presence in the world to the forefront. Centred around a towering performance by Andrew Garfield, Silence is a film that offers no easy answers, but that gets at the heart of Christianity better than any film in recent memory. It encapsulates the impossible task of trying to be like Christ in a world where God feels so distant.
3. Everybody Wants Some (dir. Richard Linklater)
What It's About: A freshman baseball player's (Blake Jenner) experience of the final days of the summer before classes begin at a Texan college in 1980.
Why It's Good: Everybody Wants Some is a joyous good time. The laid back, masculine charm of the film shouldn't work as well as it does. In fact, with its plot description and characters, Everybody Wants Some could've been downright awful, and yet, it's sublime. Linklater plays with his familiar themes about discovering identity and comprehending the importance of the mundane moments in life, but the film doesn't feel like a repetition of his earlier works in any way. Everybody Wants Some is a glorious combination of teenage sex comedy and philosophical art film, making both types of films simultaneously more palatable.
4. Our Little Sister (dir. Hirokazu Kore-eda)
What It's About: After the funeral of their absentee father, three grown women discover they have a younger half-sister and invite her to move to the country to live with them.
Why It's Good: Kore-eda is consistently underrated by western viewers and critics. It's perhaps that his films are too quiet and too human. His characters are gentle, if flawed, and his visual style is domestic, although meticulous. In Our Little Sister, he takes a bunch of small, quiet scenes about adjusting your expectations for life and getting over bitterness at your parents and combines them into something powerful. It's a joyous film that earns its catharsis through its immense compassion for its characters and its exacting attention to the details of their lives.
5. O.J.: Made in America (dir. Ezra Edelman)
What It's About: A meticulous chronicle of the murder case of O.J. Simpson and the personal, racial, and political contexts that surrounded and precipitated the crime and its aftermath.
Why It's Good: This seven-and-a-half hour long documentary is more than another true crime tale shedding new light on a famous case from the past few decades. It's a vital statement on why America is the way it is. Ezra Edelman clearly lays out the details of O.J. Simpson's life and times. He shows how his celebrity was born, how his relationship with Nicole Brown was an extension of his most abusive instincts , and how the racist culture he lived in created the anger that fueled his acquittal. O.J.: Made in America is a vital testament to the importance of context in journalism and in storytelling.
6. Hell or High Water (dir. David Mackenzie)
What It's About: Brothers Toby (Chris Pine) and Tanner (Ben Foster) set about robbing branches of the regional bank that foreclosed on their ranch, while a crusty Texas Ranger (Jeff Bridges) tracks them down.
Why It's Good: Hell or High Water belongs in the great Western genre tradition of American cinema. It examines whether the founding myths of self-determination and justice still exist in the American southwest, or whether they ever existed at all. It's entertaining with its car chases and shootouts, but its theatrics carry a message about financial desperation that's vital to our times. And no film of the year boasts as wonderful characters; every single character with even a single line in the film seems a fully-formed person, with their own stories happening just off screen.
7. La La Land (dir. Damien Chazelle)
What It's About: An aspiring jazz pianist (Ryan Gosling) falls in love with an up-and-coming actress (Emma Stone) in this original musical set in modern-day Los Angeles.
Why It's Good: La La Land is not so much a recreation of Golden Age musicals as an examination of artists' nostalgia for the past and difficulty finding success in both life and art. If you're coming for showstoppers like those out of The Sound of Music or West Side Story, you'll be disappointed past the magnificent opening number. The musical numbers are often more instrumental than theatrical, and the actors' voices are not up to par with those of Broadway stars. But this is a wonderful film that understands its characters, their situation, and the genre legacy it's tapping into. More than anything, it understands how to combine music with the vocabulary of cinema. Not since the films of elaborate 1930s choreographer Busby Berkeley has a camera in a musical been utilized so energetically.
8. Arrival (dir. Denis Villeneuve)
What It's About: After mysterious aliens appear in twelve spacecrafts around the globe, linguist Louise Banks (Amy Adams) is recruited by the American military to communicate with the aliens and discover the intent of their arrival.
Why It's Good: Arrival is a celebration of hope couched in darkness. It's tense and meticulous and visually stunning, as all films by Denis Villeneuve are. But it's also shockingly emotional in how it weaves together a story of alien contact with a woman's grieving process over a lost child. Arrival works as intelligent science-fiction and it works as cinematic catharsis: a rare combination in this day and age.
9. Green Room (dir. Jeremy Saulnier)
What It's About: Members of a punk band (Anton Yelchin, Alia Shawkat, Joe Cole, Callum Turner) lock themselves in a remote venue's green room after witnessing a murder by the neo-nazi owners.
Why It's Good: Green Room will shred your nerves. It's pure tension, front to back. The film is an efficient machine. There are no wasted shots, no obvious backstories, no exposition. It's all sinew, like the muscles on the pit bulls that are so crucial to the plot. If the purpose of a horror film is to make the viewer feel the terror of the characters, than Green Room is a great success.
10. The Witch (dir. Robert Eggers)
What It's About:A Puritan family expelled from their community succumbs to paranoia and sinister manipulation in the woods in 17th-century New England.
Why It's Good: The Witch is an accomplished feat of directing. In his feature debut Robert Eggers has crafted a film that justifiably deserves comparison to Stanley Kubrick. It's formally exact, compellingly acting, and authentic to a maddening degree. The result of this meticulousness is a film that captures not just the look and the sound of Puritan New England, but the madness of it as well. Without condescension or judgment, it places you in a period and overwhelms you with that period's manias. It's a stunning act of historical fidelity.
The Next 10 (In Alphabetical Order)
Batman v Superman: Dawn of Justice (dir. Zack Snyder)
The BFG (dir. Steven Spielberg)
Hail, Caesar! (dir. Joel and Ethan Coen)
The Handmaiden (dir. Park Chan-wook)
HyperNormalisation (dir. Adam Curtis)
Knight of Cups (dir. Terrence Malick)
Rogue One: A Star Wars Story (dir. Gareth Edwards)
Sleeping Giant (dir. Andrew Cividino)
Three (dir. Johnnie To)
Voyage of Time: The IMAX Experience (dir. Terrence Malick)